The Next Mercedes-Benz User Experience Will Feature More Interactivity and Intuition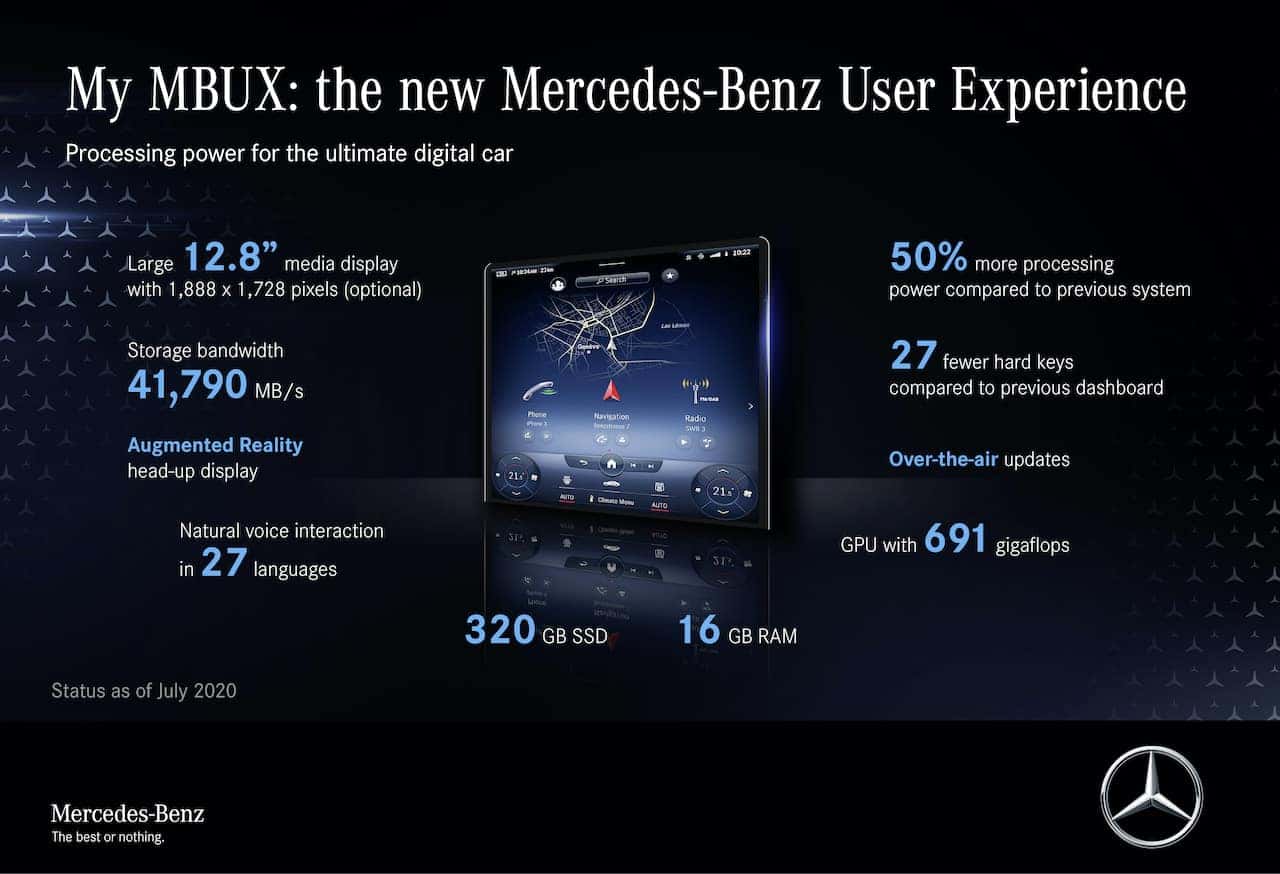 The Mercedes-Benz User Experience – MBUX – is at the core of your driving experience. You are able to do more in your Mercedes-Benz than ever, with smarter connectivity and content from both native and connected devices.
Coming soon is the next generation of MBUX. It will be more interactive, connected, and intuitive than the current system.
This will be a system that can be experienced from every seat, where it can be individually programmed for up to three screens, depending on your vehicle. Content from each screen can be shared with other passengers on board your Mercedes-Benz. There will be extensive individualization based on your profile through the Mercedes me app from your smartphone onto your vehicle's own profile.
Rear seat drivers can also access the on-board navigation system with their own settings and directions. This is perfect for professional drivers with demanding clients – or, for back seat passengers who know the way to your destination.
Accessing the next-generation MBUX system can also be achieved through a PIN, or a biometric and interconnected authentication method. You can use your fingerprint, face, or voice to unlock your profile on your Mercedes-Benz. If you use your voice, just say "Hey Mercedes" to start a "conversation" with your vehicle.
Another component of the next-generation MBUX system is the Interior Assist function. It serves as a hub for up to 20 control commands that allow for recognition of whether a child seat is unattached or for someone unintentionally leaving the vehicle. This function will also read a person's body profile to get the right fit behind the wheel of your Mercedes-Benz.
The next generation of head-up displays will feature augmented reality. This design will make even directions easier to understand with turn commands affixed onto the actual driving lane. Plus, information from the Active Distance Assist is shown to ensure you are making the turn or merge precisely.
Next-generation technology will include further customization to appearance and information displayed on the instrumentation screen. With a choice of profiles, you can select the way things look in front of you, even on AMG® models.
All of this is not on some concept that would become a production model in a few years time. This will become the next generation MBUX system that will be seen on the upcoming new generation S-Class in the next few months. This will also become the MBUX system that will become a feature on every Mercedes-Benz afterwards.
If you're ready for the future, contact us at Mercedes-Benz of Eugene to get started. There are plenty of new Mercedes-Benz models with award-winning current MBUX system available that is future ready for today.