She's Mercedes Eugene
Our local initiative, She's Mercedes Eugene, is a platform dedicated to inspiring, connecting and empowering women, highlighting their unique success and creating a dialogue that transcends cultures, industries and experiences.
---
Kelly Sutherland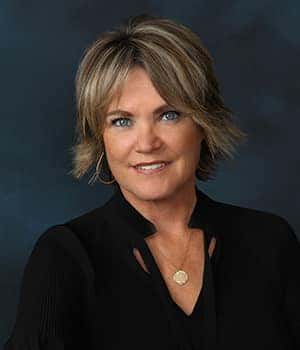 April's She's Mercedes Eugene honoree is Kelly Sutherland. Since 2011, Kelly has served as Executive Director of Relief Nursery, an organization dedicated to keeping children in our community safe from abuse and neglect. She also serves as a member of the Oregon Association of Relief Nurseries and has been instrumental in the growth and expansion of Relief Nurseries across the state.
In Eugene and Springfield, Relief Nursery provides comprehensive family support services that are easily accessible to low-income parents with children up to five years of age who are at high risk for abuse or neglect. Research shows that assistance in the first few years of a child's life – before behaviors are indelibly imprinted – has the greatest success in breaking abusive patterns.
"I really admire Ralph Parshall and the team at Mercedes-Benz of Eugene for their extraordinary generosity and commitment to the community – and to Relief Nursery, in particular," said Sutherland. "Ralph genuinely cares about children and families everywhere and Mercedes-Benz of Eugene leads by example, supporting organizations that help them thrive and be successful."
April is Child abuse and Neglect Prevention Month, and Mercedes-Benz of Eugene salutes Kelly for her work. She embodies the values and work that make our community stronger.
Read more about Relief Nursery here.
Dr. Dawn Bodell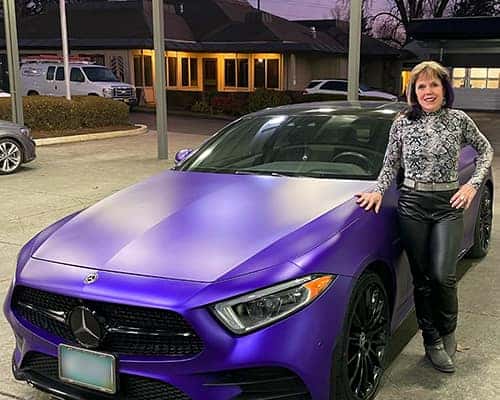 January's She's Mercedes honoree is Dr. Dawn Bodell, an accomplished urologist at Oregon Urology Institute.Dr. Bodell can be seen around Eugene in her trademark purple CLS 450 from Mercedes-Benz of Eugene. She named it Jewels in memory of her best friend.
"I love to support a local business like Mercedes-Benz of Eugene," said Dr. Bodell. "They care about their clients. They understand the importance of communication and good people skills. I feel like I'm at home when I walk in the door." Dr. Bodell says she teaches her two daughters those same values as she raises them to be happy, successful, productive members of society. " It says a lot about the team at Mercedes-Benz of Eugene that I know the names of the people there, and they know my name." We congratulate Dr. Bodell and thank her for her work in our community.
---
Christina Lund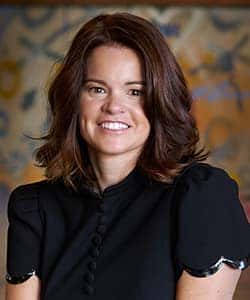 December's "She's Mercedes Eugene" honoree is Christina Lund. Christina is the owner and President of Lund Development Solutions, Inc., a boutique fundraising organization that serves Oregon and SW Washington.
With nearly two decades of experience, Christina has personally raised more than $75 million for nonprofits big and small, and has helped others secure another $250M. Her clients range from large well-known organizations such as the Red Cross, Eugene Mission, and the YMCA, to small non-profit start-ups such as Safe Haven, The Eugene Drop Youth Navigation Center, and SquareOne Village. Her passion is helping others.
Christina is the proud mother of two kind, young men, Jacksen and Nicholas; together with her boys and her husband, Marc, Christina enjoys skiing, golfing, and any family activity that involves sourcing, preparing or tasting food.
---
Jenny Bennett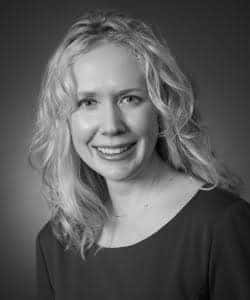 October's "She's Mercedes Eugene" honoree is newly promoted Summit Bank Eugene/Springfield Market President Jenny Bennett.
Jenny is a longtime Lane County-based community banking executive and community leader. She serves as a Past President of the Board of Directors of the Relief Nursery and the Shedd Institute of the Arts. She is the current Chair of the annual Relief Nursery Main Event, which raises hundreds of thousands of dollars each year for the thousand children and families served by Relief Nursey in Eugene and Springfield. Jenny is also a 10-year Chair of Marketing for the Oregon Bankers Association. In 2019, Jenny won the OBA's Presidential Award for her service to the industry. Most recently, she was elected to the American Bankers Association's Communications Council. She has also been recognized as a 20 Under 40 award recipient, representing the community's "best and brightest young achievers" in many different fields, including health care, technology, recreation, nonprofit work and more.
"It was important for me to purchase my car from the team at Mercedes-Benz of Eugene because Ralph Parshall was so committed to young professionals and what they're doing to make the world a better place. I have never left Mercedes-Benz of Eugene and have developed a strong relationship with everyone on the team there," said Jenny
"In many ways, they are like a second family. My relationship with Mercedes is also a way of saying thanks," said Jenny.
Mercedes-Benz of Eugene applauds Jenny for her achievements and thanks her for her commitment to our community.