Mercedes-Benz of Eugene recognized as Best of the Best
Mercedes-Benz of Eugene has been recognized with the Best of the Best Silver Laurel for 2021. The award is reserved for only the top fifteen percent of Mercedes-Benz dealerships nationwide. It is the fourth time the dealership has earned the prestigious award.
"You can always expect us to provide an unparalleled experience," said General Manager Ralph Parshall. "At our dealership, we're committed to providing quality customer care and delivering the optimum ownership experience."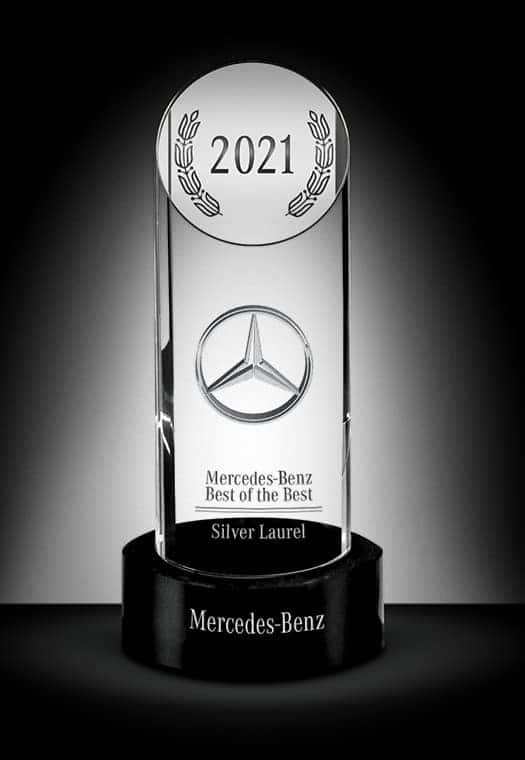 Parshall credits his team of employees for going above and beyond. "This award is all about them," he said.
"We strive to create lifelong relationships, which is why when you choose Mercedes-Benz of Eugene, we consider you a member of our family." said Parshall.
The team at Mercedes-Benz of Eugene is proud of the premium German engineering and design work that goes into each Mercedes-Benz vehicle they sell, and they're committed to reflecting that quality in everything they do.
Parshall notes they're also dedicated to community, proudly supporting numerous local non-profits including Twin Rivers Rotary, Sacred Heart Medical Foundation, The Child Center, Relief Nursery, the University of Oregon Foundation, The John G. Shedd Institute for the Arts, and more. Most recently, the dealership started a new program, "She's Mercedes Eugene," focused on recognizing local women in business.
To learn more, contact Mercedes-Benz of Eugene at (541) 687-8888 or
visit MBEugene.com