MBUX & Advanced Features Explained

You've probably come across "MBUX Multimedia System" or "MBUX  Technology" and asked yourself, "What does MBUX mean?" MBUX stands for Mercedes-Benz User Experience. Once you find out what this intelligent infotainment system is capable of, your next question will most likely be, "Which Mercedes-Benz models have MBUX?" We'll answer that question and more FAQs about MBUX and discuss MBUX's advanced features. Be sure to watch the video at the end for tips on how to get the best experience using Mercedes-Benz User Experience.
What is MBUX? 
You can think of MBUX as the 'brain' of your Mercedes-Benz. It's a highly intelligent and intuitive infotainment system that offers a multitude of features allowing you to customize your ride & control your vehicle settings. 
Four ways to control your MBUX system:
Using the digital dash touchscreen display

Saying "Hey Mercedes" followed by a command – "adjust the ambient lighting to yellow."

Using the touch-control buttons located on the right side of the steering wheel.

Using your touchpad located on the front center console. 
Which Mercedes-Benz models come equipped with MBUX?
Fortunately, for those looking to upgrade to a 2020 or 2021 Mercedes-Benz, MBUX comes as a standard, no-cost feature on ALL models. MBUX was introduced for the 2019 model-year line-up as an optional feature. 
MBUX Advanced Features and How to Use them
Connecting Your Music through MBUX
Through MBUX, music streaming services like Apple CarPlay and Android Auto are available for all models, while for now, newer models like the 2021 S-Class offer Spotify and Amazon Music streaming options. But don't let that hold you back from listening to your favorite tunes! You can always connect your phone to MBUX via Bluetooth® and play music from Spotify or Amazon. Below is a short tutorial on how to connect your phone to Apple CarPlay.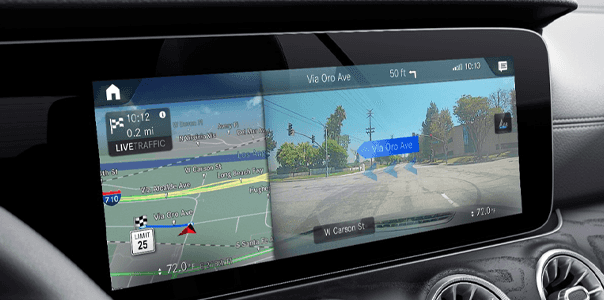 Augmented video for navigation
Using the front car camera, MBUX displays a view of what's up ahead on your digital dash display while integrating directional arrows on the screen to further help guide the driver. When a turn is approaching or you're arriving at a house address, the arrows and numbers are superimposed. 
MBUX Interior Assistant
Arguably the most advanced MBUX feature is the MBUX Interior Assistant. Small cameras in the overhead console register subtle movements and hand gestures of the driver and front passenger. For example, when the driver places their hand in front of the touchscreen or above the touchpad on the center console, the media display changes to their pre-selected setting. Even turning on the overhead lamp is as simple as extending a hand towards the interior mirror. The MBUX Interior Assistant can even detect gestures at night.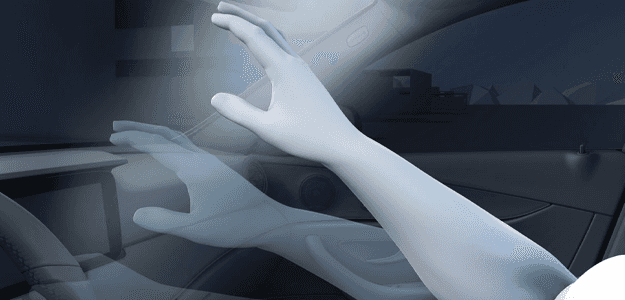 .
Discover more ways to interact with the MBUX Multimedia System.
MBUX is constantly learning new words and phrases through over-the-air updates, and continuously learns the driver's behavior. To experience MBUX to the fullest, watch the video below to learn some helpful tips and contact us to schedule an in-person demo.