Introducing the Mercedes-Benz Metris Weekender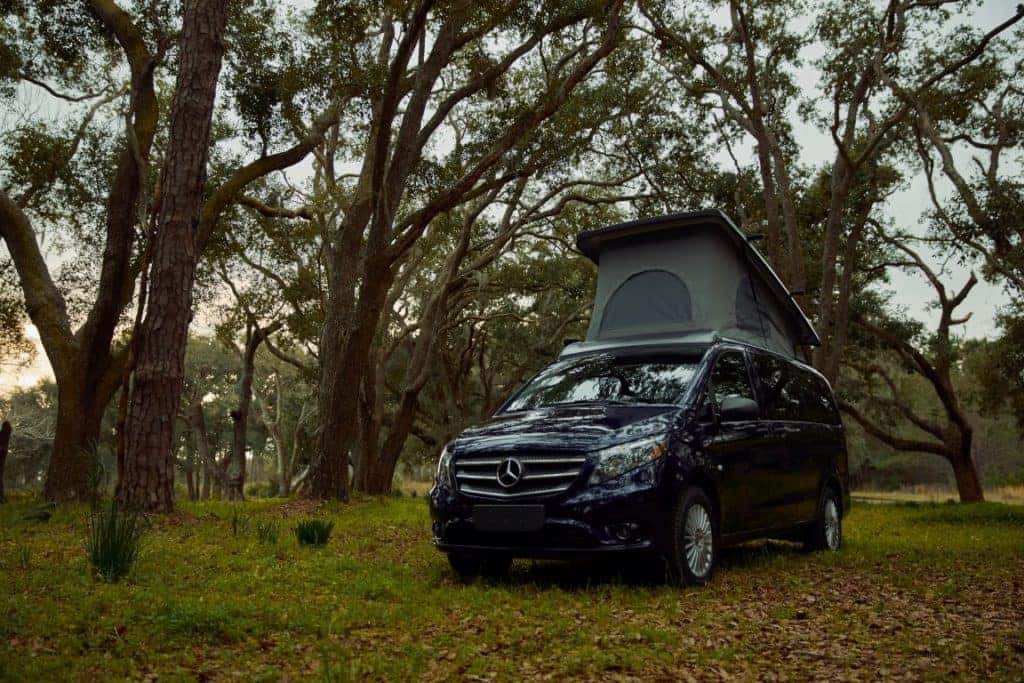 Camping out in The Cascades or by the Pacific Ocean will be a completely different experience again.
Introducing the Mercedes-Benz Metris Weekender. It is the return of the pop-up camper that has been a part of life in Oregon. While it evokes nostalgia, it is a very modern van with all of today's safety, amenities, and convenience you expect from a Mercedes-Benz.
The Metris Weekender is a collaboration between Mercedes-Benz, Driverge Vehicle Innovations, and Peace Vans. Driverge Vehicle Innovations is a part of the MASTERSOLUTIONS™ program, that do a lot of support for Mercedes-Benz vehicles, including our van lineup. Peace Vans is one of the largest classic camper van repair and restoration shops in the United States. Together, they created a modern classic for those seeking the great outdoors with one simple, comprehensive, and adaptable vehicle.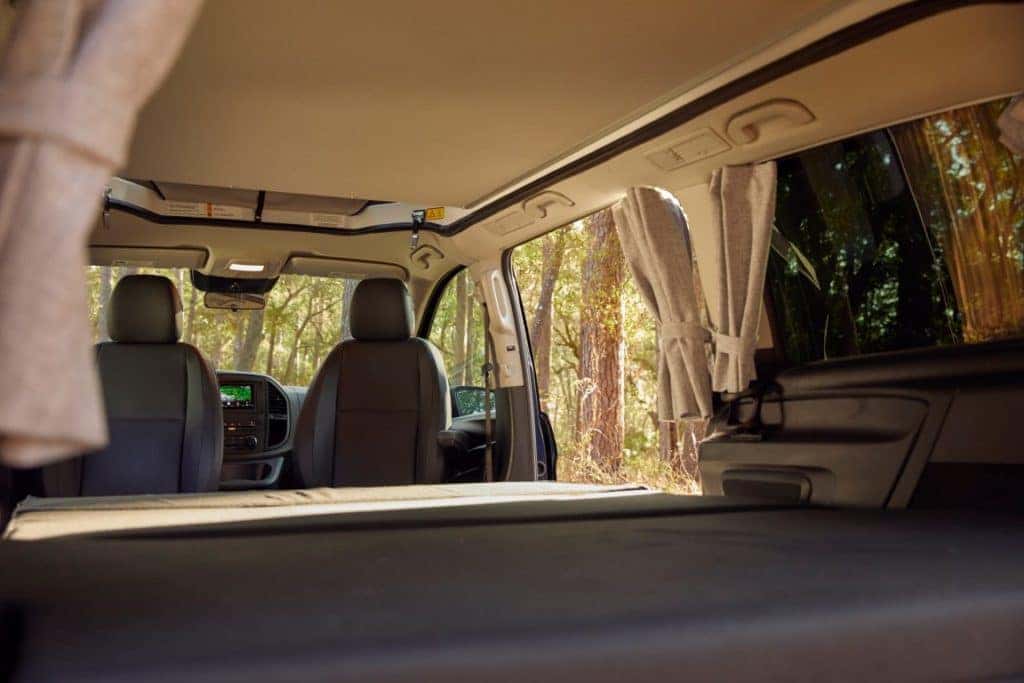 The Weekender comes standard with the following features:
An elevating roof with a sleeping area for two. Including an integrated spring system, 2" memory foam mattress, 3 windows, and added USB ports for lights, charging and more.
A multipurpose rear bench seat that opens up into a bed for two. Additionally, when folded into the seat configuration, the seat moves along a rail position into four locations, allowing additional room for varying cargo needs.
Swiveling front seats that rotate 180 degrees allow your van to quickly turn into the perfect multipurpose lounge. Whether doing work after getting off the trail, sharing a meal or playing cards– the reconfigured space with seats fully swiveled adds a whole new dimension to the experience.
Standard on every Weekender package is a second battery to power your devices, light up your nights or suit any of your other campsite needs.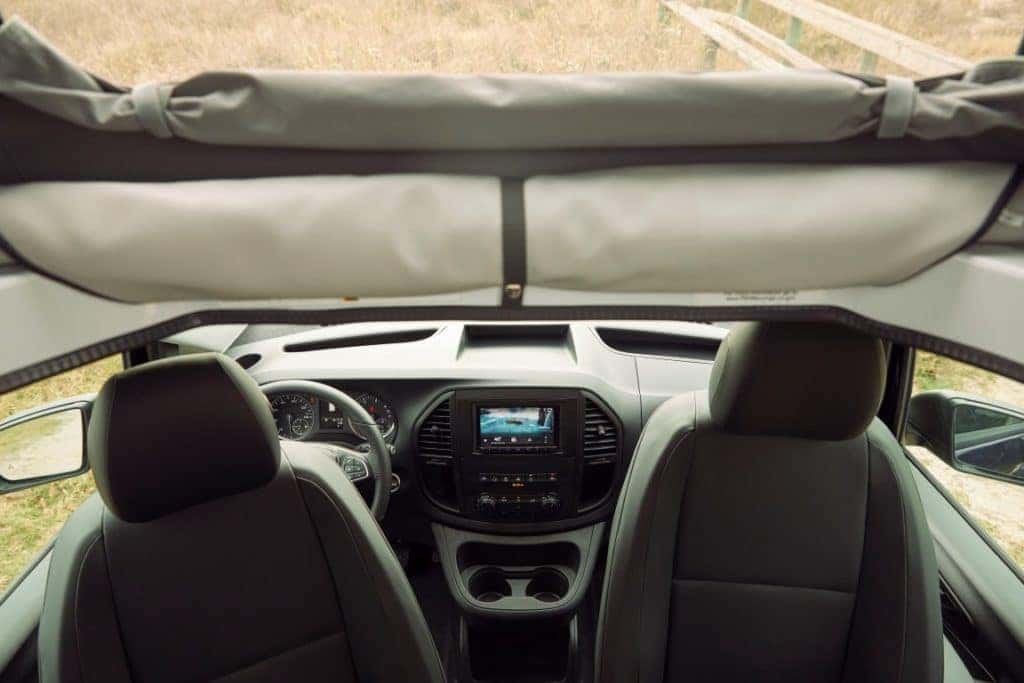 Optional features include:
Off-Grid Power and Integrated Solar Panels, preparing you for extended trips with built in solar charging capacity.
Upgraded audio and navigation features to improve your road trip experience.
Various personalization options with the world class 3M auto body wrap materials. The Weekender can be wrapped in any one of 200 available colors.
Camping upgrades:

8' awning for shade and rain protection
Mosquito/bug screens for the rear hatch, and sliding doors
A tent that quickly attaches to the rear lift gate for added space and privacy

Roof Racks for hauling surfboards, extra storage or skis for the slopes.
A pullout rear kitchen.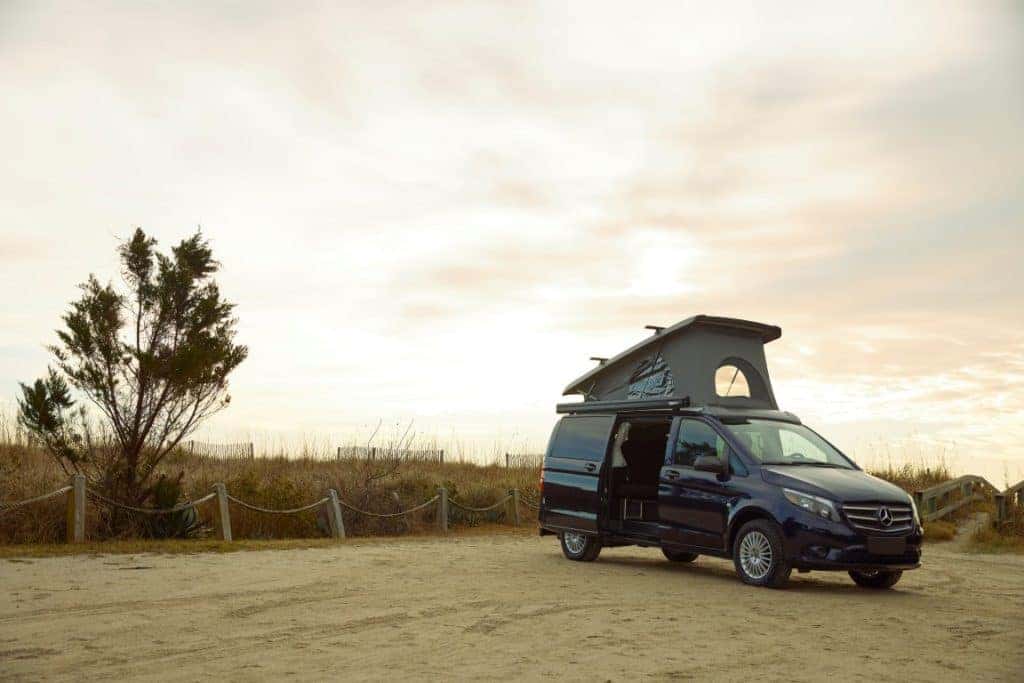 All of this is built onto our van, the Metris. This great van offers sophisticated safety features, exemplary fuel economy, up to 15,000 mile service intervals and a tow rating of 5,000 pounds. Standard feature highlights for the Metris include ATTENTION ASSIST®, a rearview camera, and ECO start/stop. The standard Crosswind Assist helps stabilize the van and boosts safety in strong, gusting crosswinds, while the dynamic handling system load adaptive ESP® actively intervenes to help keep the van firmly under control and safe by automatically braking individual wheels and reducing engine power to help stabilize the vehicle if wheel spin, understeer or oversteer is detected.
If you happen to be one of the first 100 owners of a Metris Weekender, you get a free National Parks Pass to start exploring with your van into some of the greatest plots of land. There's some great National Parks right here in Oregon, the Pacific Northwest, and beyond!
Mercedes-Benz of Eugene sells vans – and not just to commercial customers, The Metris Weekender is probably the best way to get more out of Oregon and the country than any vehicle out there. Register your interest and become the first to own a Metris Weekender. Metris vans are also available for test drives, as well.