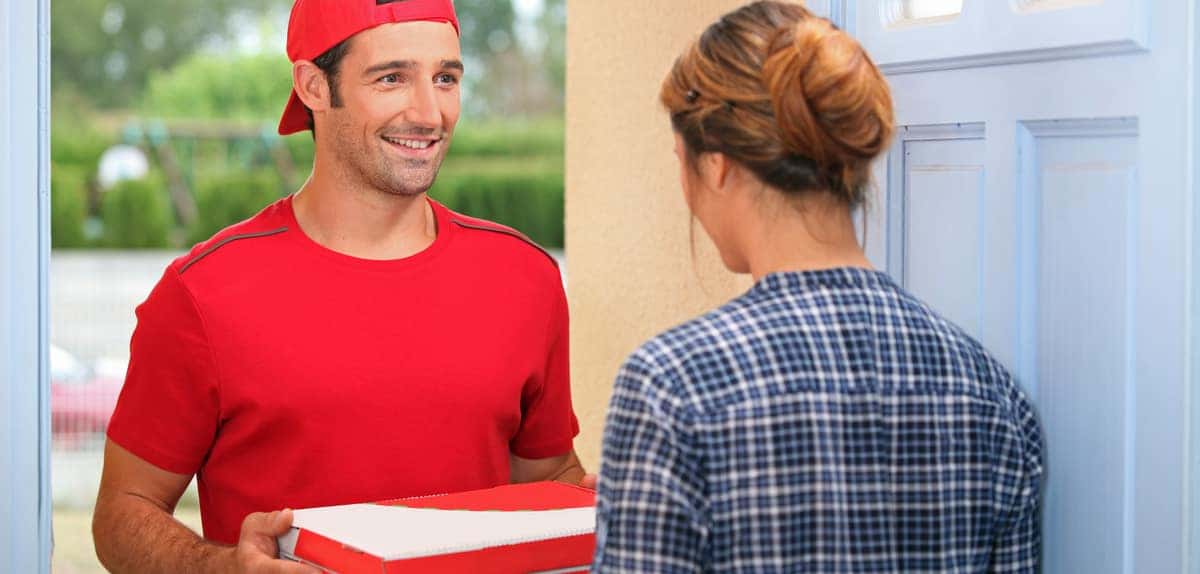 Whether you're cozying in for a movie night or hunkering down for a late-night study session, you're probably going to want some good food to snack on. With so many incredible delivery restaurants in Eugene, there's no need to venture out from the comfort of your home. From fresh-made calzones to Thai cuisine and everything in between, the options that can be brought right to your door are seemingly endless around these parts. In this guide, the Mercedes-Benz of Eugene staff brings you some of our top choices for the best delivery restaurants in Eugene!
---
The Dough Co.
There's no questioning what the specialty is at The Dough Co. Their menu features 30 different types of calzone! Try a traditional cheese or pepperoni calzone, or venture toward one of many unique offerings, like the cordon bleu or breakfast calzone. No matter your choice, every calzone on the menu at The Dough Co. rings up for just $8.25. And pizza dough isn't the only type of dough that's made fresh on a daily basis in their kitchen; they're equally renowned for their baked to order cookies! Did we mention that The Dough Co.'s delivery hours run from 11 am to 3 am daily? No matter what time of day you're in need of a pick-me-up, they've got you covered.
Caspian Mediterranean Cafe
Whether you're craving kebabs and gyros or you're looking for a go-to delivery place for a classic double cheeseburger and fries, University of Oregon students will tell you that Caspian Mediterranean Cafe is a No. 1 choice. They'll deliver right to your doorstep, or you can request curbside pickup if you're already out and want to grab something to go. You can count on Caspian for always fresh Mediterranean food delivery; just be sure to get your order in before 11:50 pm.
Pastini
Pastini brings spaghetti carbonara, caprese salad, and homemade minestrone soup just like Nonna used to make directly to your door. Their menu is perfect for when you're in need of some true Italian comfort food, and it also happens to be one of the best vegetarian restaurants in Eugene, OR with some great veggie options like butternut squash-gorgonzola ravioli. They are open for delivery daily from 11:30 am to 8 pm, so when you're craving pasta with a side of garlic bread, don't hesitate to turn to Pastini!
Manola's Thai Cuisine
Craving some Pad Thai or a curry dish? You need look no further than the menu at Manola's Thai Cuisine. If you need a little guidance as you order, one of their most popular dishes is the peanut sauce curry, which is slowly simmered over chicken, broccoli, carrots, and cabbage. Of course, there are plenty more curries to sample if you're looking to expand your palate, as well as a lengthy selection of noodle dishes and noodle soups. For dessert? Don't miss out on the golden fried banana or a serving of Thai tapioca. Manola's offers delivery between 12 pm – 9 pm Saturday – Sunday, and 11 am – 9 pm Tuesday – Friday.
Explore More of Eugene With Mercedes-Benz of Eugene!
Whether you're a lifelong resident of Eugene or you're brand new to the area as a University of Oregon student, you can refer back to our Eugene guide for trusted advice on the best delivery restaurants in Eugene, OR, driving tips, and so much more from a locally-based team. Have some local tips of your own that you'd like to share? Contact us online; we would love to hear from you!