Comparison: Mercedes-Benz GLS vs Cadillac Escalade

When Mercedes-Benz offers a family vehicle, it has to satisfy the needs of every occupant aboard. But, it goes beyond that. A family vehicle needs to be safe, engineered to the highest standards, offer the latest in technology and offer the level of luxury expected in a Mercedes-Benz.
There is a vehicle that exactly meets and exceeds all of these expectations. It is the Mercedes-Benz GLS. It is our three-row family SUV that offers "the best."
But the truth is that the GLS 450 offers pretty much everything you'd want out of a proper Mercedes sedan, combined with pretty much everything you'd want out of a towing-focused full-size SUV. It's the kind of vehicle that grows on you with every passing mile as you become conscious of all the intelligent little decisions and choices made in its design and engineering.- Jack Baruth – Road & Track
How does the GLS really compare with its rivals? We decided to make the comparison for you. Let's see how the GLS stacks up against the Cadillac Escalade…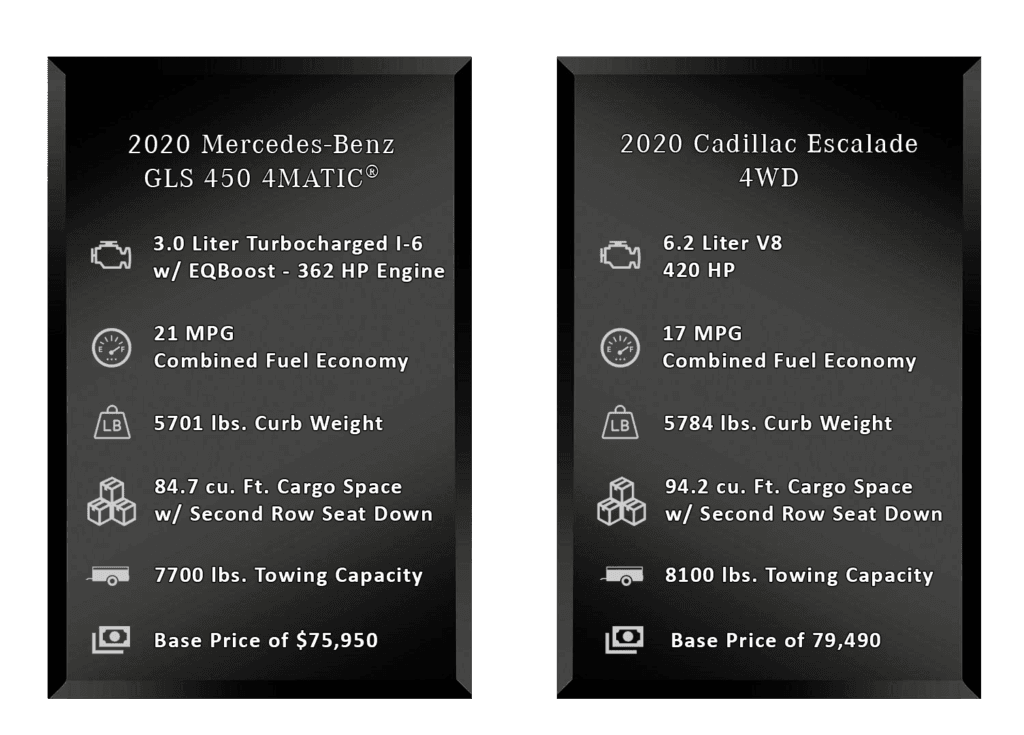 There are plenty of advantages the GLS has over the Cadillac.
Better performance and fuel economy
Better cargo and passenger space utilization.
Mercedes-Benz value – not just at purchase or lease, but in retained value over time.
The beauty of the GLS is you can everything in a seven-passenger SUV, including the elegance of our famed S-Class. This is why we call it the "S-Class of SUVs" – beautifully equipped and engineered like no other in its class.
Mercedes-Benz of Eugene wants to introduce the GLS to you. Come and see what we have in stock and take one for a test drive. You will find what we know – it is Oregon's best family SUV, period!